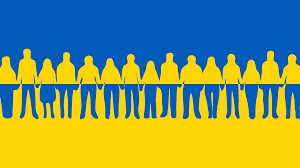 LOCAL INFORMATION
Wickow Community Response - Ukrainian crisis information: https://www.wicklow.ie/Living/Your-Council/Customer-Care/Community-Response-Ukrainian-Crisis
Wicklow County Council Community Response Forum is coordinating the community-led response to provide support to Ukrainian refugees in County Wicklow.  Contact email address: communityforum@wicklowcoco.ie
Free English classes / ВЧИТИ АНГЛІЙСЬКУ: 
Bray Area Partnership is running free conversational English classes online and in other locations in Bray and North Wicklow. See: Fáilte Isteach Conversational English Classes 
The KWETB is running free English language courses in Bray, Greystones, Wicklow Town, Baltinglass, Blessington, Arklow and Carnew.Bray & North Wicklow contact: catherinegreene@kwetb.ie
Wicklow Town contact: seonahyland@kwetb.ie
West Wicklow contact: guidancewestwicklow@kwetb.ie
See: https://kildarewicklow.etb.ie/english-classes-for-ukranian-refugees/   
NATIONAL INFORMATION
Gov.ie website: Ireland's response to the Russian Invasion of Ukraine
Information on the supports and services available to Ukrainian citizens who have come to Ireland.
Реакція Ірландії на ситуацію в Україні
Реакция Ирландии на ситуацию в Украине
Citizens Information Coming to Ireland from Ukraine information page:  Coming to Ireland from Ukraine
Information on visas and immigration, social welfare, accommodation, healthcare and medical cards, working in Ireland, education: school and third level.
Irish Refugee Council website: https://www.irishrefugeecouncil.ie/ukraine-information-note
Information for Ukrainians who have come to Ireland, in English and Ukrainian.
Irish Government resources / Ресурси ірландського уряду
Access to Healthcare / Доступ до охорони здоров'я

Housing / Житло

Adult Education / Освіта доросли

School / Школу
Guide for Parents and Carers on School Places: 
Tusla guide on school places in Ukrainian for Parents and Carers. Посібник для батьків та опікунів щодо подання заяв до школи
https://www.brayareapartnership.ie/sites/www.brayareapartnership.ie/files/documents/Parent_and_Carers_Guide_to_School_Application_in-ukranian.pdf  
Accommodation
If you wish to offer accommodation to Ukrainians coming to Ireland email registerofpledges@redcross.ie.
Volunteering
Contact County Wicklow Volunteer Centre www.volunteerwicklow.ie if you wish to volunteer to offer support to Ukrainian refugees in the local area.