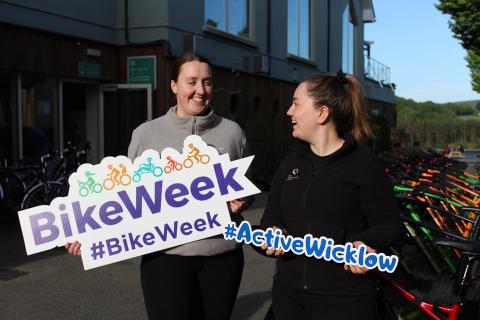 Bike Week is a celebration and promotion of the benefits of cycling. Bike Week 2023 will take place from Saturday 13th to Sunday 21st May 2023. A variety of events will be held throughout County Wicklow.
Get ready to saddle up and explore the stunning landscapes of Wicklow on your trusty two wheels. With a variety of events catering to all ages and abilities, there's something for everyone during Bike Week 2023.
From thrilling group rides along picturesque coastal paths to challenging mountain bike trails that will put your skills to the test, there's no shortage of heart-pumping adventures for cycling enthusiasts. For those looking for a more leisurely experience, there will be family-friendly rides, free bike rentals, and relaxed cycling routes for all to enjoy at their own pace.
Bike Week 2023 is not just about the thrill of cycling; it's also an opportunity for children to attend a learn to cycle taster session and to learn about the benefits of sustainable transportation.  Attend informative workshops on bike maintenance and discover how cycling can contribute to a healthier lifestyle and a greener planet.
But it's not all about the serious stuff! Bike Week 2023 will also feature a range of social events, including bike-themed competitions and community gatherings, providing the perfect opportunity to connect with fellow cycling enthusiasts and make new friends who share your love for the open road.
So mark your calendars and gear up for an unforgettable week of cycling fun at Bike Week 2023 in Wicklow! Whether you're a seasoned cyclist or new to the sport, there's something for everyone to enjoy. Don't miss out on this national programme celebrating the joy and freedom of cycling in one of Ireland's most picturesque counties. See you on the trails!
Find out more here: https://wicklowlsp.ie/event/bike-week-2023/?fbclid=IwAR36AfdJQQLP850NiEP8frOYhnwi6_-DAIvKPCg_TLS9ATBRYzBQUg79CMc