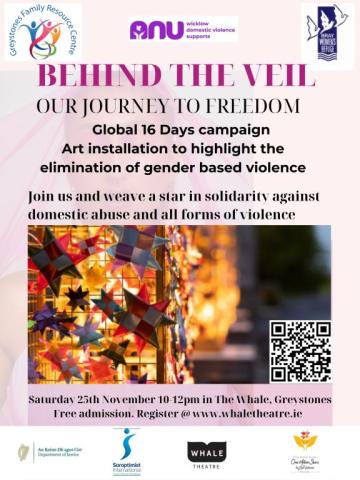 'Behind the Veil - our journey to freedom' is a showcase of 3D art installations in The Whale Greystones to highlight the Global 16 Days Campaign which seeks to eliminate all gender- based violence and the organisers are asking the public to come along and get involved by weaving a star. 
Opening Times: 10am-12pm | Saturday 25th November 2023 | The Whale Theatre 
Greystones Family Resource Centre in partnership with Bray Women's Refuge are working together with a group of women who are themselves survivors of domestic violence and they have designed and created this showcase themselves. Join them for coffee and to weave a star to add to the Million Stars Campaign which they are also including in this event. The event is free of charge but any donations will go to Bray Women's Refuge.
Please RSVP to confirm your attendance https://whaletheatre.ticketsolve.com/tick.../shows/873640516